Texas Kindergarten Entry Assessment (TX-KEA)
The Texas Kindergarten Entry Assessment System (TX-KEA) is the result of a collaborative effort between the US Department of Education, the Texas Education Agency, and the Children's Learning Institute at UTHealth to develop and validate a school readiness screener that can be reliably administered by kindergarten teachers in Texas. It covers multiple child development domains and better informs kindergarten teachers about the children in their classes, helping them to design more appropriate learning opportunities. In August 2017, TX-KEA launched on CLI Engage.
In Fall 2017, the Children's Learning Institute received a grant from a private foundation to expand TX-KEA into a kindergarten progress monitoring tool. The kindergarten entry assessment serves as the BOY assessment for this new progress monitoring tool; the MOY (middle-of-year) and EOY (end-of-year) assessments and reports were developed and validated during the 2017-18 school year in Texas classrooms.
Login to CLI Engage to access the TX-KEA assessments, reporting features, and training materials. Staff at Texas public school districts and charter schools, sign up for CLI Engage for no-cost access to TX-KEA.
TX-KEA Domains and Subtests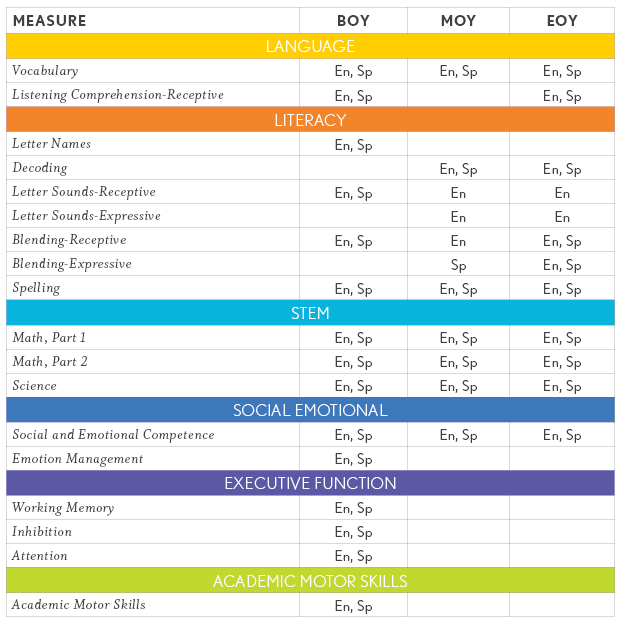 TX-KEA is . . .
a comprehensive school readiness screener to be given at kindergarten entry
also a three-wave kindergarten progress monitoring tool for beginning-, middle-, and end-of-year
listed on the 2017-2021 Commissioner's List of Approved Kindergarten Assessment Instruments
available in English and Spanish and allows adaptations for children with special needs
designed to inform instruction and provides links to classroom activities through the CLI Engage small grouping tool
a web-based reporting system to help teachers make effective use of the results
a combination of teacher-administered assessments, child-paced assessments, and teacher surveys/observational tools
compatible for data uploads to TEA's Early Childhood Data System (ECDS)
a time-efficient tool comprised of multiple brief measures
a system that provides reports to parents, teachers, and school district personnel
TX-KEA is 
not

 . . .
an intelligence test
a high stakes test
a language proficiency test
an assessment to evaluate the performance of kindergarten or pre-K teachers
a system to determine certification of early childhood programs
Visit CLI Engage to learn more about TX-KEA and request access to the assessment and reports!
All Texas public school districts and charter schools can access TX-KEA at no cost.
TX-KEA Resources: